RackMount Kit for Barracuda F18, F80, X50, X100, and X200


RM-BC-T1: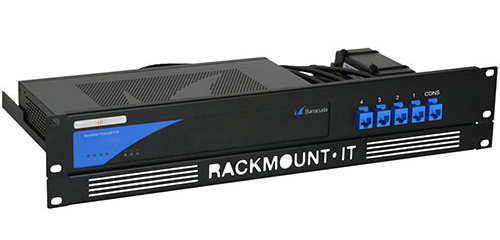 Rack Mount Kit for Barracuda F18, F80, X50, X100, and X200
#RM-BC-T1
List Price: $149.00
Our Price: $144.00
All rack mounts are subject to the availability of given stocks and can vary significantly
based on the timing and the size of the order.
The RM-BC-T1 gives you the ability to mount your Barracuda in a 19" rack. The kit is tailored specifically for the listed models to guarantee a perfect fit. In addition, the connections are brought to the front for easy access.
Assembly will take about 5 minutes. Simply slide your Barracuda device in the kit, place the retainers and connect the supplied cables to the keystones.
Image Views:
Specifications
Manufacturer
Rackmount.IT
Model
Barracuda
For Use

Barracuda F18
Barracuda F80 Rev. A
Barracuda X50
Barracuda X100
Barracuda X200

Color
RAL 9005 Jet Black
Height
1.3U
2U with the supplied front plate
Dimensions (height x width x depth)
2.32 in. x 18.98 in. x 8.54 in. (59 x 482 x 217 mm)
Number of connections brought to the front
5
Console port to the front
Yes
Cables
5x 0.5m cables
Couplers
5x RJ45 couplers
What's in the box

1x BC-Rack + RJ45 couplers
1x Rackmount.IT front plate
Cables
Assembly materials
Installation guide
Download the RM-BC-T1 Datasheet (PDF).
RackmountIT Products
Rackmounts for Barracuda Products
Rack Mount Kit for Barracuda F18, F80, X50, X100, and X200
#RM-BC-T1
List Price:
$149.00
Our Price: $144.00