Rack Mount Kit for Barracuda X50, X100, X200, F18, and F80
RM-BC-T1: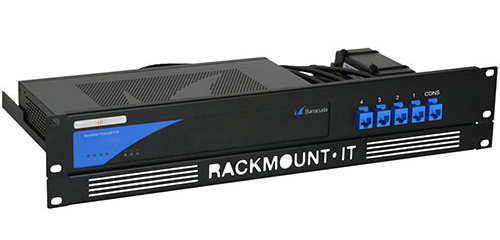 RM-BC-T1
List Price: $139.00
Our Price: $134.00
The RM-BC-T1 is a member of the Rackmount.IT product line. This firewall kit allows you to easily mount your Barracuda appliance to your 19 inch server rack. Quick installation, front facing network connections, and a fixated power supply are a few of the great features of this product. Supports the Barracuda X50, X100, X200, F18, F80 models. This unit will take up to 1.3U, but we just call it 2U.
Specifications
Manufacturer
Rackmount.IT
Model
Barracuda
For Use
Barracuda F18, Barracuda F80, Barracuda X50, Barracuda X100, Barracuda X200
Rack Units (Size U)
2
External Height (inches)
2.32
External Width (inches)
18.98
External Depth (inches)
8.54
Includes
Cables, Keystones, RJ45 Couplers, Assembly materials, Installation Guide
Color
Black
Outlet Position
Front
Installation Time (Minutes)
5
Number of Ports
5
Cables
5x 0.5m
Download the RM-BC-T1 Datasheet (PDF).
Barracuda Rackmounts
Rackmounts for Barracuda Products
Rack Mount Kit for Barracuda X50, X100, X200, F18, and F80
#RM-BC-T1
List Price:
$139.00
Our Price: $134.00